Italian Cookies

Italian Sesame Seed Cookies

Addies Lasagna

Tiramisu

One-Dish Chicken

Lemon Cookies

Pizzelle

Struffoli-Honey Dough Balls

Panna Cotta

Italian Fig Cookies I

Tomato Zucchini Stew

Italian Fig Cookies 2

Hamlins White Sauce

Fancy Cannoli Cake

Pignoli Cookies

Cannoli Shells

Stir-fried Napa Cabbage

Red Wine Syrup

Cannoli Cream

Recipe Home
---

Mar. 18
visitor: 7677
TIRAMISU

Tiramisu means "pick-me-up" in Italian, for the high energetic content (eggs and sugar) and the caffeine of the strong espresso coffee.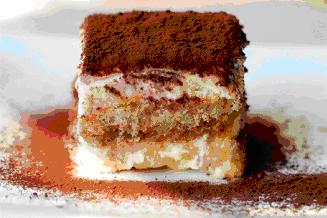 Recipe courtesy of Chef Vince Pianalto
Homemade Lady Fingers
Recipe adapted from LaVarenne Practique Cookbook, by Anne Willan, published by Crown
Preheat oven to 350 degrees F. Grease and flour two baking sheets with 2 tablespoons butter and the 2 tablespoons flour. Mark parallel lines in the flour across the width of the tray about 4 inches apart. Put the egg yolks and sugar in a large mixing bowl, and with an electric mixer fitted with a wire whisk, beat on medium-high speed until the mixture is pale yellow, thick, and has tripled in volume, about 8 minutes. Add the egg whites, remaining ¾ cup flour, salt, and vanilla.

Fold to mix thoroughly so the mixture is smooth. Fill a large pastry bag with a ¾ inch plain tube with the mixture. Pipe fingers about 4 ½ inches in length on to the baking sheet, using the lines as a guide. Dust the ladyfingers with powdered sugar. Bake for 15-18 minutes, or until just firm on the outside and soft in the center.

Option: Spread entire mixture evenly into prepared pan. Cook, cool, and cut into desired size and shape for your container.

Prepare enough double strength coffee or espresso to pour over ladyfingers when assembling tiramisu.


Ingredients:

2 Tablespoons butter
¾ cup plus sifted flour
2 tablespoons flour
4 egg yolks
½ cup sugar
4 egg whites, beaten until stiff
pinch of salt
1 teaspoon vanilla
powdered sugar for dusting
Cheese Filling:
To serve 4-6:
½ lb. mascarpone cheese
½ lb. cream cheese, softened
To Serve 8-10:
1 lb. mascarpone cheese

1 lb. cream cheese, softened

Stir together until well blended and set aside.
.

3 egg yolks
½ cup sugar
½ teaspoon vanilla
12 egg yolks
1 cups sugar
1 teaspoon vanilla
Place eggs yolks, sugar, and vanilla in top of double boiler and place over pan of simmering or gently boiling water. Stir constantly with wire whisk until temperature of egg mixture reaches 140 degrees and mixture has a mousse-like texture.

Using whisk, stir egg mixture into cheese mixture and whisk until well blended, and set aside.

Just before assembling, prepare ganache.
Ganache:

To serve 4-6
1 cup whipping cream
¾ cup bittersweet choc. Chips
To serve 8-10
2 cups whipping cream
1 ½ cup bittersweet choc. Chips
Heat cream just until it reaches boiling point. Remove from heat. Stir in chocolate chips and stir until chips are completely melted and chocolate is smooth.

To Assemble: Layer in serving dish or individual serving dishes or cappuccino mugs:
1. Place ladyfingers or sponge cake on bottom of container.
2. Pour enough coffee or espresso over cake to soak cake.
3. Spread a layer of ganache over cake.
4. Spoon a layer of cheese mixture over cake layer.
Repeat layers, ending with cheese mixture.

Refrigerate until set and firm, at least 2 hours, or overnight.

Just before serving, spread freshly whipped cream over top layer and sprinkle with lightly cocoa powder.